Search


Proud of your Chrysler 300c, well why not show it off here......
To post your Chrysler 300c here -
Send us an Email with 3 to 5 of your chosen photographs (specs below) together with a short description of your 300c and details of any modifications undertaken and we'll post it up for all to see. Please include a pseudonym and your county of residence.
Photograph specification photo 1 -landscape width 300 pixels x 200 pixels. photo 2, 3, 4 & 5 - landscape 150 pixels x 95 pixels or portrait 150 pixels x 200 pixels. All photo's should be of 72 dpi or higher and in jpeg or png format please. Remember to 'paint out' your number plate if you do not want this to be displayed. Should you not have any photo software or are not confident resizing/cropping images then just pop us the raw photos and we'll do our best to format them for inclusion as soon as is possible.

Radlin of Wiltshire's 2006 Bright Silver Chrysler 300c CRD
Owned since January 2011 and soon caught the 'bug' for mod's and upgrades including - Startech 22" rims, Front Splitter & Boot Lip Spoiler, Mopar Grille, Mopar custom Ovals & Shields, De-Badged Boot Lid, Tints, 6000k DRL's, Clear Sidemarkers, MyGig upgrade with Lockpick, Front & Rear Cameras, Viezu Stormtech & BlueOptimize re-maps, Sonar Black/Clear LED Tail Lights with LED Bulbs, Stormtech Sideskirts & Rear Diffuser.


RichardMS of South Wales' 2008 Black Pearl Chrysler 300c SRT Design
Owned since December 2010 and have been modifying since. 22" Team Dynamics Equinox II wheels fitted with 265/35X22 Atturo Az800 tyres. MVP Euro style custom painted smoke chrome grille with one off custom badge. Smoke tinted wind deflectors. GTS Blackout headlight covers. Black backed clear bumper marker lights. Silvatec side indicator bulbs to stop the fried egg look. DIY Halo fogs used as DRL's. Door mouldings removed. Stainless cat back exhaust with 4" tips. BT Park Lockout. BT Catch Can. Window tints........ Updated pics to follow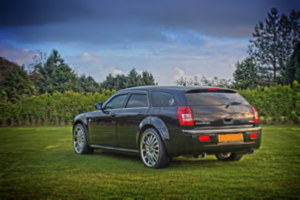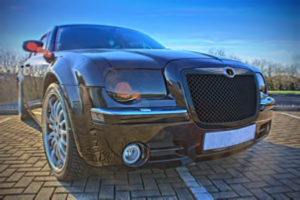 Lucean of Solihuls' 2008 Black Pearl Chrysler 300c
Lucean's 300c features a stunning custom full red leather interior which looks fantastic.
Other mod's include a Billet Tech Catch Can, Custom Mopar ovals & shields and chrome style window switch trims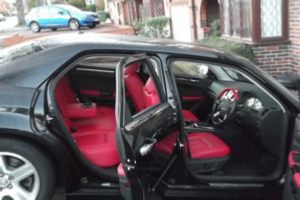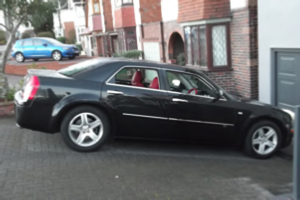 Amit of Walsall' 2006 White Pearl Chrysler 300c
Amit has owned his 300c for 4 years and the car features a stunning custom Pearl White paintwork with gold and blue fleck and panoramic effect gloss black roof. A huge list of mod's include blacked out sidemarkers, drl's, Startech 20" rims in polished chrome effect, front parking sensors, painted Startech Grille, Stormtech rear diffuser, removed exhaust back boxes with AMG style Quad tips, LED tail lights, dark fly mesh covered front, fog & rear lights.
Forthcoming mod's include Stormtech front splitter & boot lip spoiler and large subwoofer.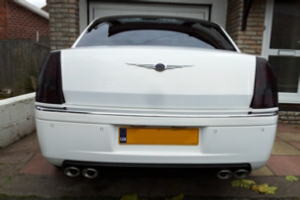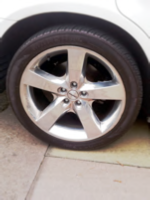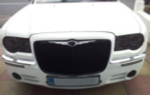 Darren of Benfleet's 2010 Silver Chrysler 300c SRT Design
Darren's had his 300c for around 2 years and his car features a Rolls Royce style front grille, dark sidemarkers, 22" rims with SRT Design Badges, SRT Design Ovals & Shields, Stormtech Front Splitter, Rear Diffuser & Side Skirts, tints, chrome mesh vent inserts and on its way to be painted a Stormtech Window Spoiler.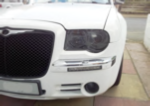 Lambournkoi of Berkshire SRT 8 300c Tourer in black pearl
Recently purchased after having a CRD and a SRT Design Tourer, Lambournkoi couldn't resist the temptation of the big 6.1L Hemi Engine with Street Racing Technology. With exception of its thirst Lambo is well pleased and has started some mod's including Predator Tuning, Magnaflow Cat Back Performance Exhaust System, Stormtech Grip Grille & Eyelids, Custom SRT8 ovals and 6.1L Hemi shields, clear side markers & Red/Clear LED Tail Lights.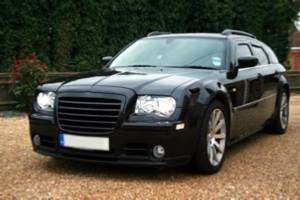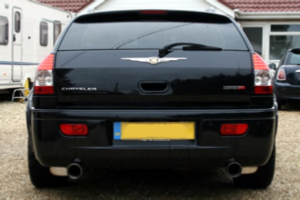 Stunning car and stunning photo's from Sarkis of Switzerland. His 5.7L Hemi 300c Touring's mod list includes KW V2, Intake, Borla Cats Deleted mufflers, Front/Back Drilled and Slotted Disk Brakes, 20'' Srt8 Black Matt rims, carbon wrapped side skirts, diffuser, roof, side mirrors, under head light panels and under rear window panel. Original colour of the car was silver, now its Matt Grey wrapped. Rear camera, custom front parking sensors, eyelids, tinted front/back lights, tints, custom grill. Carbon steering wheel, console wrapped in carbon, Custom Navigation (Pioneer Screen). Other mod's including Stormtech front splitter coming soon....

Rene of Denmarks' SRT8 Touring:-
Mod List- Dvinci duro 22x9,5 rims, wearing 265 /30/22 - 295/25/22 tyres, KW, Adjustable Coilover Kit, LED wing emblem on trunk, Mopar grill, Borla exhaust, Mopar cold air intake, Mopar Strut tower cover, Mopar Strut tower bar, Mopar engine wiring valve cover, painted with flames, Stainless Steel Sill Guards Illuminated srt8, Startech Sport steering wheel, Startech chrome door pins. Coming soon: polished and ported manifold & polished throttle body assembly, SRT8 ghost projector shadow lights.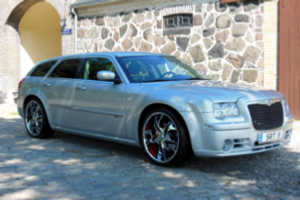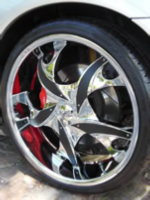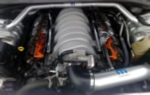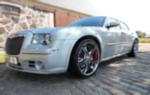 Ian's 5.7 Hemi, Full startech kit including under sill lighting, startech stainless exhaust, custom air filter, predator tuned and recorded on a rolling road at 5800 rpm to 425 BHP. Fully de chromed, with blacked out grills, custom painted engine cover, 20" split 2 piece rims offset with wider tyres on the rear, drilled and grooved discs, upgraded callipers and EBC pads all round, full led interior upgrade, rear LED and halo projector head lamps. Interior alpine touch screen double din unit, separate equalizer, 2 sets of component in door and rear shelf run off of a 1000W amp and a 12" 3000W sub and amp in enclose, rear DVD's and headrest screens. Plans for a supercharger and nitrous kit for summer 2013.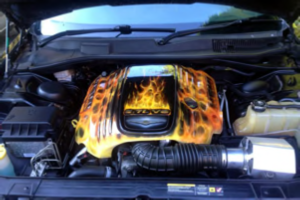 Kris of Belgium's Hemi Touring:-
Featuring full body wrap in brushed black aluminium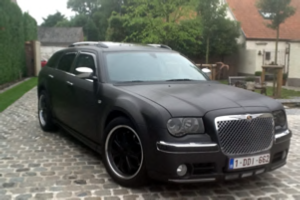 Agent Gibbs from Cleveleys, Lancashire, has owned this 2008 CRD since January 2012.
The car features the Startech Front Grille, 20" Alloys and Side Skirts. Other added features includes,12 LED DRL's, Alternator Shroud, Billet Tech Catch Can, Blackvue Drivers Black Box Camera Rear Facing, Blackvue Drivers Black Box HD Camera Forward Facing, Chrome Window Pillar Trim Set, Clear Markers, Cree Chip LED Reverse Bulbs, Freeview, Sonar LED Tail Lights, SONY CCD Rear View Reverse Camera, Stormtech Front Splitter, Stormtech Rear Bumper Diffuser, Stormtech Plus Tuning Package with DPF & EGR Deletes and V-Switch.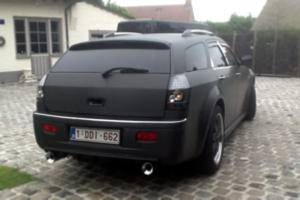 Chris from Chiswick's SRT8 Touring:-
Mod's include -
Wrapped matte black with gloss black wheels and privacy glass all-round. Aftermarket front grille, smoked covers for front lights, tinted rear lights, AFE cold air intake, QTP electric cutouts.
Featuring full body wrap in brushed black aluminium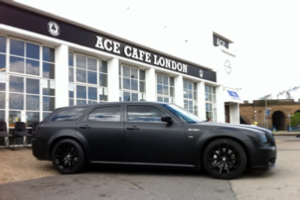 Robert's 2008 08 SRT Design.
Custom paintwork, Hood vent, eyelids, Rear wing, wrapped rear tail lights, CAD box, Duel Stainless pipes, No Cat or Dpf box, Stage 2 remapping, 2x TVs/DVD in the rear, 22" custom painted Voodoo rims, custom Artwork on body and engine cover, Intercooler Upgrade... Lot's of attention at 2013 Nationals.