Search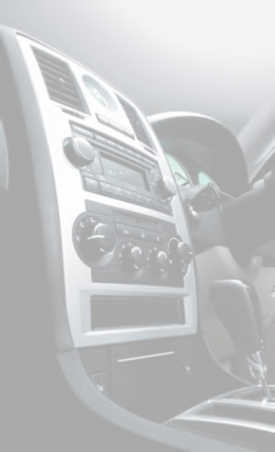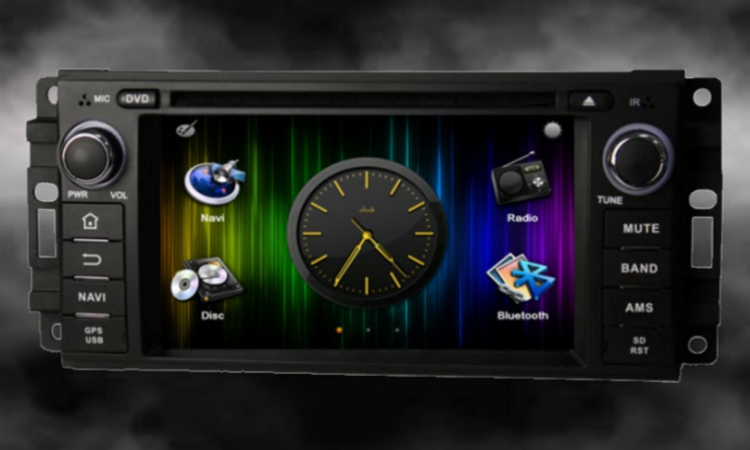 Chrysler 300c Android 8.0 Audio / Sat Nav Headunit - plug & play (suits pre facelift models 2005 > 2008)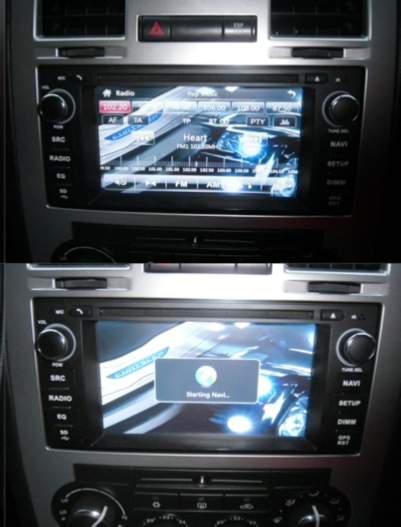 Options -
Headunit pre loaded with Igo Sat Nav Software* £395.99
Headunit pre loaded with Igo Sat Nav Software*+ DAB receiver (external) £465.99
Headunit pre loaded with Igo Sat Nav Software + DTV Tuner (internal) £485.99 (special order 7 to 10 working days, please contact us)
REJ Bezel Filler £47.99
* Sat Nav software provided by manufacturer.
Please note, it is IMPERATIVE you must check the plug that connects to current headunit for type. Early plugs have a group of 4 pins at one end, another group of 16 pins in the middle, plus a further group of two pins at the other end (totalling 22 pins). Later plug types have a central group of 20 pins, plus a further pin at either end. If in doubt please contact us. This headunit is compatible with EARLY cars only, if in doubt please contact us.
Please also note that as mentioned above this headunit is double din size so if you have a factory fitted REJ/REC 6 disk CD / Sat Nav headunit (oversize double din) you will need either a filler (such as ours), or MyGig style Bezel/surround. If you have a CD
player you will need the MyGig style Bezel/surround, or a REJ style bezel and filler.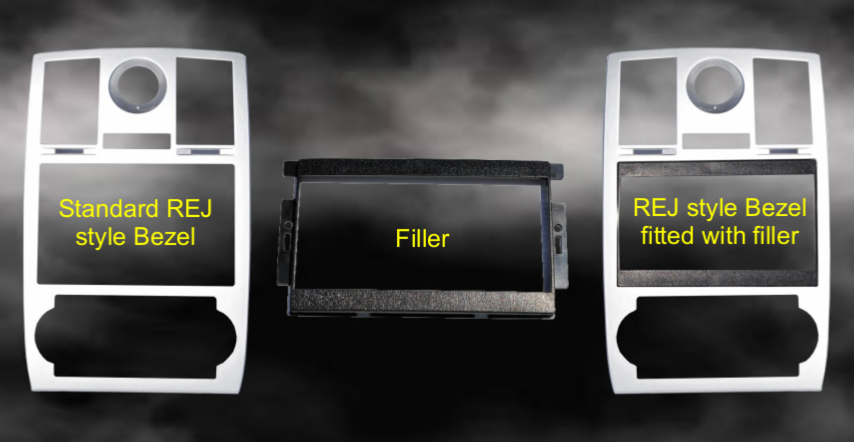 Bezel filler for use when swapping out a REJ / REC 6 disk Sat Nav headunit for a aftermarket double din unit. Bezel features square edges to allow for a tighter fit around the inside perimeter of the navigation bezel and cut outs (on all four sides) to allow factory to allow all factory tabs to lock into place. £44.99. Ensure filler is fitted to Bezel so as not to be bent or bulging which will restrict fitting of headunit (which is a tight fit within filler).
After many trials and tribulations finding a compatible* audio / sat nav headunit for the Chrysler 300c we are now pleased to offer this hardware plug & play Android headunit featuring Sat Nav, Bluetooth, built in WIFI and Ipod connectivity.
The headunit offers/preserves steering wheel controls and with our modified harness simply plugs in to the car harness so no cutting/modification of existing wiring is needed.
Note, the factory fitted REJ 6 disk headunit as fitted to prefacelift 2005 to 2008 cars is oversized and thus when fitting a double din sized headunit (such as this Android unit) a gap top and bottom will result. A 'filler' panel or double din sized bezel / surround (from a later MyGig equipped car) will therefore be needed. Please see our bezel filler info below.
Suited to REJ/REC (6 cd sat nav) or single din CD player fitted cars (2005-2008) this highly spec'd unit comes with all necessary harnesses and leads to get the unit plumbed in including main harness, axillaries harness, Canbus module, USB Cable & IPod Leads. The axillaries harness also has spare AAC live, reverse cam, illumination & electric aerial wires. The unit is double din fronted but the body of the unit is single din.
Manufacturers specification
Operating System Android 8.0
2 Din Car DVD with Hanstar high definition digital panel (Pixel 800*480) Touch screen monitor
Steering wheel control function
Built-in Bluetooth 4.0 for mobile hands-free and phonebook download A2DP
BT Mode incoming call show contact name
Built-in 3G WIFI Internet function, WCDMA/DSDPA/CDMA2000/EVDO
3G cable and 1.8 Meters external MIC cable included
Virtual 6 Disc (VMCD6 ) compatible (Virtual Box) - Not 6 disk player
10 EQ channel control
DIY wallpaper and car logo
Built in DVD GPS RDS IPOD and AUX-IN function
1080P Video play MP4 AVI RMVB ,Music MP3 WMA
CPU 1.6GHz Octa Core Processor with 32GB ROM Memory/Samsung 2GB DDR3 RAM
Built in DSP 5.1 Audio output, super sound output
Optional: car DVR and support touch screen to view video. USD30,DVB-T MPEG USD45,ISDBT
Radio receiving: FM/AM (DAB option available)
USB/SD card port: support MP4,DIVX,JPEG,MP3 and WMA playback
Car backing display: Car reverse camera input (switch automatically)
Language of OSD menu with DVD: Chinese, English, French, German, Italian, Spanish, Portuguese
Operation menu of language: English, Russian, Italian, Turkish, Japanese, German, French, Portuguese, Arabic, Portuguese, Simplified Chinese, Traditional Chinese.
AV output/input :2 video out, 2audio output, 2video input ,2 audio input
Subwoofer output 4*50W
Compatible with DVD,DVD-R,DVD-RW,HDVD,DVCD,MP3,MP4,CD-R,CD-RW,VCD,DIVX,WMA.
Maximal power:4X50W maximum power output
SD Card: Support double hi-speed SDHC(64G) card
USB: support USB HOST, USB pen readable
*Notes on compatibility / Installation and Operating advice.
Whilst DIY install is possible, professional installation is advised. Android and Nav functionality and features require personalisation once installed for which Android OS familiarity is necessary. Please take the time to fully familiarise with your new Android prior to contacting us about any issues as common things we are contacted about are a question of an adjustment from a setting.
Known functionality issues:-
DAB / DTV opted units are supplied with basic antenna's upgrades to which may be required to receive optimum signal strength in your area (area dependant).
Front to Rear Speaker Fade should be kept exactly in the middle (or all users). This is due to how the Boston Amp fitted to UK 300c's sends sound frequencies to certain speakers versus our harness modification to ensure Bluetooth and Nav prompt voices are heard.
Intermittent 'silent power up' - Android unit powers up but no sound is heard. Solution is to turn ignition off and restart upon which sound should be restored. Issue is related to the Amp not being awaken on occasion and may happen a couple of times in succession, then not at all for a period of time. The issue does not affect all cars.
Please note: Returns will not be accepted for issues declared above and it is assumed that any customer purchasing one of our Android both acknowledges and accepts the above compatibility / operating niggles.